About Pink Heart Quilting + Embroidery
Hi!  I'm Kit, the founder and Quilter here at Pink Heart Quilting and Embroidery.
I love to create all types of crafts with fabric, although quilting is my first passion. I first pieced and quilted using a domestic sewing machine. Later I tried a longarm sewing machine on a quilting frame at a quilt show, and I was hooked!   The edge-to-edge motifs make it possible to complete a quilt top with beautifully stitched designs.
I now have an Innova longarm sewing machine on a 12-foot-long frame. The Autopilot computer with a stitch regulator assures a well-balanced stitch throughout every quilt.
I learned to sew from my mother at 13 years old when I wanted to make my clothes for the coming school year.  I love purple, and the stores really did not offer this teenage girl many options in my favored color pallet.  I loved the freedom sewing gave me to express myself even if it was from Simplicity patterns.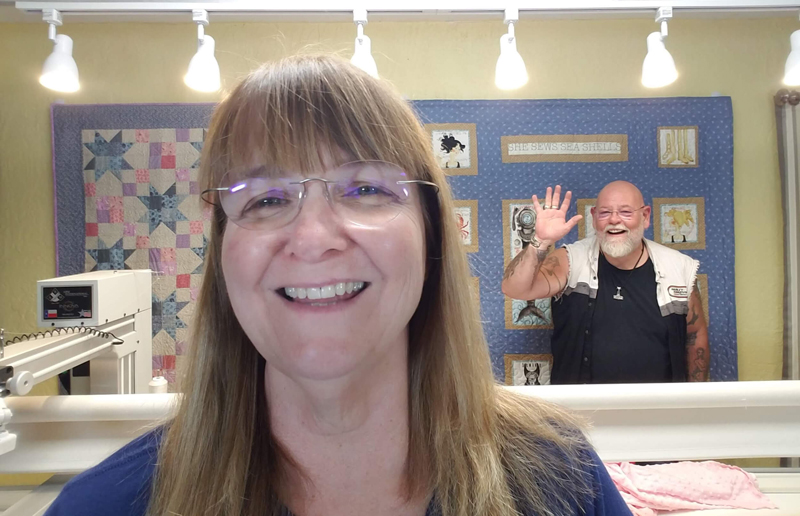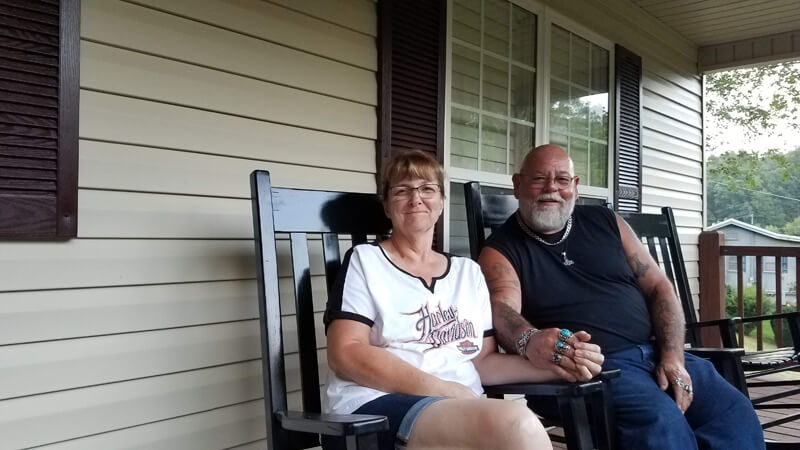 I was married to my husband, Conrad, in my early 20's. After our daughter, I made rag dolls, stuffed rabbits, and Teddy bears with custom fabrics, skin tones, and embroidered eye and hair colors to supplement our household income.   In the last 20+ years, I have been quilting to continue to feed my passion for all thing's fabric, texture, and color. 
I have several old quilts that I have purchased at local thrift stores with labels that were hand-written with permanent markers (not so permanent).  The labeling has long since faded on almost every quilt, and that information is lost forever. Several quilts passed down to me from my beloved mother, who has since passed away.  I have struggled to document the maker and the period that the quilts were made.  This has caused me to realize the importance of using quilt labels to ensure that this information will be available to future generations.  I make sure to use quilt labels and encourage all quilters to use them. All this is captured in beautifully embroidered labels so that no matter where the quilt travels, the maker, the recipient, and the date will be documented.  I favor an embroidered custom quilt label because I know it will not fade with washing and drying.  
Preserving memories is especially important to me.  I have found that memory or t-shirt quilts are a great way to preserve the memories of our lives and the lives of loved ones.  It is also a great way to provide a gift of comfort to the family of someone that has passed away.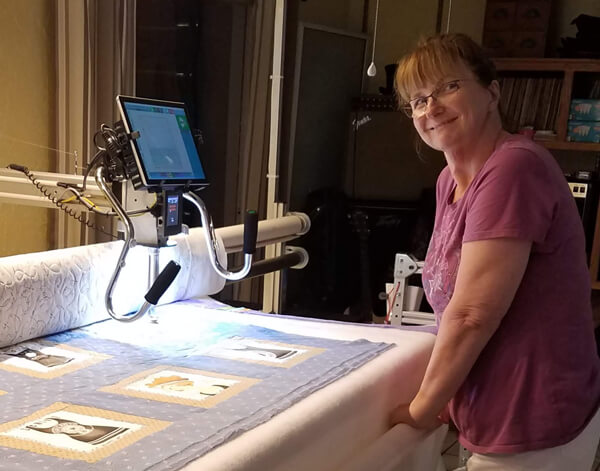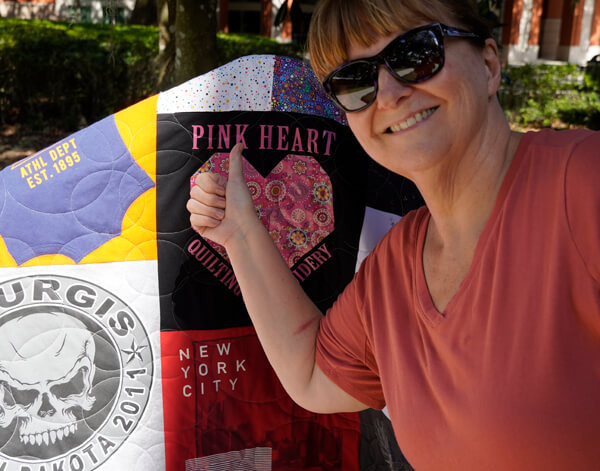 In 2008, my husband encouraged me to take a motorcycle riding class to ride my own Harley Davidson motorcycle. He, or should I say we, now own three of them. Our most extended bike trip so far included riding our motorcycles from Florida, across the United States, to Sturgis, South Dakota, then on through Wyoming into Montana over the Rocky Mountains at Beartooth Pass and through Yellowstone National Park in Colorado. Oh my, what an adventure! Another favorite vacation destination is riding our bikes in the Smokie Mountains of North Carolina; it always includes riding the Dragon's Tail on the Tennessee and North Carolina border.  If he had his way, we would have four or five bikes in the garage, but back to this story's point. 
I started making memory or t-shirt quilts when my husband requested a King Size quilt using the Harley Davidson t-shirts he had acquired since purchasing his first Harley Davidson motorcycle. This quilt was an opportunity for me to incorporate real pictures of our motorcycles and embroidered blocks with the model names and year of each bike.  Since that time, I have made many other Memory and T-shirt quilts using both block designs, with and without sashing between the pictures, as well as collage-style quilts.  I love the softness the t-shirts give to the quilt top and the limitless ways to document life's memories.